Over the past few years, AI has made huge strides in its ability to effectively optimize the content writing game. With the level of online competition on a constant rise, brands and marketers need to be able to generate more content to stay ahead of their rivals and the use of tools like the AI blog generator of HIX.AI can help to ease the burden.
Since it was launched, ArticleGPT has made huge waves in the content writing industry with many users already implementing it into their daily workflows. For those unfamiliar with it, it is a unique AI-powered content writing tool that harnesses the power of both Chat GPT-3.5 and GPT-4 to generate large volumes of text based on the user's input.
In doing so, users can produce a wide range of long-form content such as reports, blog posts, reviews, and so much more. As a result, it does well to effectively eliminate the need to spend hours on research and manual writing. However, there's more to ArticleGPT than meets the eye, as it comes with an extensive range of features and benefits that help it shine over most other article-writing tools. Read on to learn more.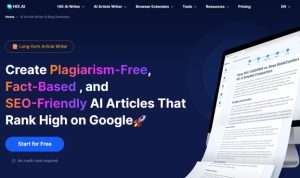 Main Features and Capabilities of ArticleGPT
HIX.AI's ArticleGPT comes with an extensive array of tools and features that most other article writers typically lack. If you visit the site of HIX.AI, you will discover that some of the main highlights of using this writing tool include:
Long-Form Blog Writer
Most AI writing tools in the market tend to come with frustrating limitations that restrict users from being able to generate content beyond just a few hundred words. However, with ArticleGPT, users can generate long-form content, no matter the length, within a few clicks. Whether you need help writing essays, reports, articles, blog posts, or whatever else you need, this tool can be relied upon to generate accurate and relevant content in a flash.
Supports Multiple Languages
One of the biggest highlights of using ArticleGPT is that it can also aid you in your attempt to reach wider audiences online. With this writing assistant, users can generate content in 100+ different languages to cater to native audiences worldwide. Some of these languages include French, Italian, Japanese, Mandarin, and much more. Plus, compared to traditional translating tools, it is far less likely to produce contextual inaccuracies that would jeopardize the content's readability.
Customizable Tone of Voice
Another benefit of using ArticleGPT is that it enables users to personalize the content to suit their intended audiences with ease. This can be easily achieved by selecting the specific tone of voice that you want before the AI-based tool generates content that reflects your input to a tee. For example, you will be able to tailor the content to convey a friendly, professional, or even casual tone, just to name a few.
Integrated Grammar Checker
Any content you publish must remain free of any grammatical or sentence structure issues because good readability is what ensures that your articles can be easily read by audiences and keep them engaged. To this end, ArticleGPT is designed to integrate with Grammarly, which ensures that any generated content will never have any punctuation, spelling or sentence structure errors. This makes it a reliable writing assistant that can improve both the quality and speed of your workflow.
Integrated Plagiarism Checker
The consequences of plagiarism can often be very damaging, which is why it is extremely important to ensure that any AI writing tool you use doesn't produce copied content that isn't 100% original. The good news is that ArticleGPT comes with an integrated plagiarism feature that ensures any generated text is unique and plagiarism-free. As a result, you can be confident that any content from this tool will not result in any copyright infringement issues.
Integrated Keyword Optimizer
SEO optimization is another important aspect to consider when crafting long-form content and luckily, ArticleGPT also has that area covered. With this tool, you can effectively generate fully-fledged articles that rank for SEO by incorporating the right keywords into the content. This way, you can save yourself a lot of time and effort trying to do the work manually, while also ensuring that your content shows up higher in SERPs.
What Type of Content Can ArticleGPT Produce?
ArticleGPT can effectively generate any type of long-form content that you require, as it caters to a wide range of purposes, niches, and even professions. Here are a few of the most common examples:
General Articles: With ArticleGPT, you can easily generate general blog articles that are both informative and engaging enough to attract visitors to your website. No matter what the intended topic or niche is, this AI writing tool will be able to provide you with fact-based drafts with information pulled from trustworthy online sources.
Product Reviews: If you have an e-commerce store, you can use ArticleGPT to craft comprehensive product reviews that break down your chosen product in detail. This includes its features, pros and cons, etc. All you need is to provide the AI writer with information on the item and within seconds, it will generate an insightful review that can be published online.
Product Comparisons: You can utilize ArticleGPT to generate product comparison articles for any two products. The tool will simply collect information using the names and links that you provide before quickly highlighting all the key similarities and differences such as features, pricing, quality, etc. The tool will even extract user feedback from established review platforms to generate an unbiased and comprehensive article.
How-To Guides: ArticleGPT can provide your readers with accurate and helpful how-to guides on how to conduct home repairs, cook food, use a software application, and much more. The AI tool will only require you to provide a few details on the topic that you want to address and it will generate a step-by-step breakdown that readers will be able to easily follow along.
How Much Does ArticleGPT Cost?
HIX.AI provides its users with access to a free trial that can enable them to test out the features and functionalities of ArticleGPT. However, do keep in mind that to use the tool in its entirety, you will need to subscribe to the Pro Plan, which will set you back $39.99/month. This, in turn, will provide you with the ability to generate long-form content of up to 600,000 words per month.
Furthermore, the benefit of subscribing to this plan is that it will also provide you with full access to HIX.AI's other 120+ writing tools that may end up being useful in your content writing efforts. To put it simply, the cost of accessing ArticleGPT may be high but it will undoubtedly prove to be worth it in the long run.
Conclusion
b