Lando Norris is a respected British race car driver who made his Formula One debut for McLaren in September 2018. Renowned for his impressive track record, Norris was appointed as McLaren's test and reserve driver at 17 years old. Vanity Fair acknowledged his skillful talents and charming youthful appearance. He served as the central figure in a glamorous photoshoot alongside other notable drivers such as Daniel Ricciardo, George Russell, Pierre Gasly, and Esteban Ocon. In this article, we have rounded up information about Lando Norris's net worth and achievements.
Biography
This race driver hails from Bristol and comes from a family of considerable wealth. Lando Norris was educated in Somerset, located in South-West England. You might wonder: "How much are Lando Norris's parents worth?" His father, Adam, who sold his thriving pensions advisory business, Horatio Investments Ltd., has a personal fortune of £205 million and was ranked 18th in the Bristol Rich List in 2016.
Lando often streams on his YouTube channel. He won the hearts of audiences in the popular series Drive To Survive. His cheerful and lively personality has catapulted him to stardom within the show's fanbase. To watch it on Netflix UK, you may need to use a virtual private network for secure access. For instance, such services as VeePN allow users to enjoy the show starring this race driver from any location. Before paying for a subscription, you may use a free trial. This VPN will allow you to enjoy geo-blocked content, including information posted on social networks, without worrying about any restrictions.
Career
Norris's success in karting played a pivotal role in his career. Back in 2013, he dominated the European Championship and the WSK Euro Series, both in the KFJ class. The following year, he rose to new heights by clinching the most distinguished title in karting, the CIK-FIA Karting World Championship in the KF category. His achievements in the karting circuit served as a solid foundation for his future endeavors.
He demonstrated a talent for winning and continued to build on his success by winning several prestigious races, including the MSA Formula Championship in 2015 and Formula Renault 2.0 Northern European Cup in 2016. His impressive performance caught the attention of McLaren, and he was signed to a junior driver contract in 2017, a remarkable achievement that left him astonished.
At 23, Norris became McLaren's senior driver – a testament to his unparalleled skill and experience. Within four years, this accomplished driver has established himself as one of the brightest talents.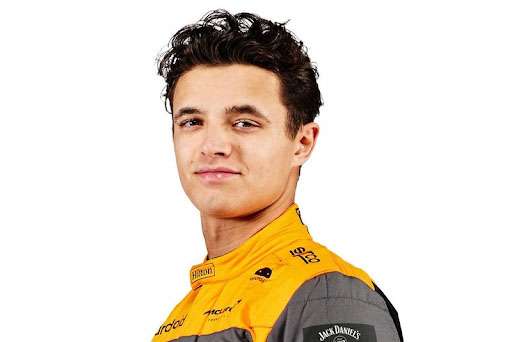 Other Facts
Born on November 13, 1999, this Belgian-British race car driver has a monthly income of $4 million. His net worth as of today is $30 million. Lando Norris weighs 68 Kg (150 lbs). His height is 1.76m (5′ 11″). He owns 9 mansions and 5 yachts.
Many people wonder: "What is the Norris family's net worth?" After looking into this, we can conclude that their assets are currently valued at $300 million.
Remarkably, Max Verstappen is currently the only individual in the sport with a lengthier contract, as Norris secured a £80 million, four-year contract. As for his personal life, he had been dating a Portuguese model Luisinha Oliveira for eight months.
In an online streaming event on Twitch, Lando Norris collected a whopping $12,000 to contribute to the COVID-19 Solidarity Response Fund. The fund was launched to support the World Health Organization.
It is quite remarkable that despite his immense wealth, Norris has chosen not to possess a car. However, as a benefit of his profession, he has been provided with various vehicles on loan by McLaren throughout his career.